Andrzej Szkandera
Praticien(ne) certifié(e)
Date de certification du praticien:
Date des formations continues suivies par le praticien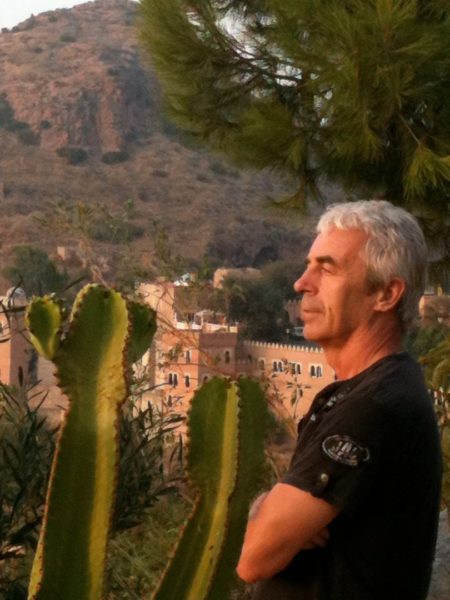 'The wind is the presence and the candle the instrument'
Antigymnastique® is a long movement that continues in the body, in the brain, and in the heart. Thérèse Bertherat
La forma física es fundamental. Nada puede ser hecho sin la asocioción de forma y esencia. Tantas veces como plantes una semilla, si se retira su envoltura protectora no se desarrollará. Siémbrala con su envoltura y se hará un árbol esplendido. Desde este punto de vista, el cuerpo es esencial y necesario en la realización del proyecto divino. Rumi.
Todo ser humano, si se lo propone, puede ser escultor de su propio cerebro. Santiago Ramón y Cajal
Antigymnastique online sessions are available.
In these difficult times, exceptionally, the Antigymnastique classes are available online. Please, let me know if you are interested. I will be very happy to walk with you on this new journey.
Ahora puedes practicar Antigimnasia online.
En estos tiempos dificiles, excepcionalmente, las sesiones de Antigimnasia se puede practicar online. Por favor, hazme saber si estas interesado. Será un placer acompañarte en este nuevo viaje.
Antigym online
W tych trudnych czasach, wyjątkowo, sesje Antigym można ćwiczyć online. Daj mi znać, jeśli jesteś zainteresowany. Będzie mi miło towarzyszyć Ci w tej nowej podróży.
TESTIMONIALS
Poco a poco con el paso del tiempo y en el mundo tan frénetico en el que vivimos fuí olvidándome de mi cuerpo, dejé de escucharlo. incluso llegué a pensar que lo que sucedía era ajeno a mí, simplemente se trataba de pequeños accidentes casuales, desatendiéndome de mi responsabilidad hacia él para pantenerlo sano y saludable. Gracias a la práctica de Antigimnasia volví a redescubrir mi cuerpo y sentír el espacio que ocupa en su totalidad. He vuelto a casa. A esta casa que es mi cuerpo, donde yo hábito, y he podido establecer un contacto inseparable con él. Después de muchos años practicando y debido a diferentes circunstancias, comencé a practicar Antigimnasia online. Al principio un poco reticente, pues pensé que no sería igual. Cual fue mi sorpresa al comprobar que en el trabajo de Antigimnasia, online o presencial, no había practicamente ninguna diferencia. La atención y cuidado por parte de Andrzej guiando la sesión es total. Te toca con su voz, con indicaciones claras y precisas, de forma relajada, posibilitando que tu cuerpo se abra y confíe. De forma que la sessión se lleve a cabo en un ambiente íntimo, capaz de traspasar la pantalla de la computadora. Sin duda seguiré practicando Antigimnasia de forma online o presencial, pues tomar consciencia de mi cuerpo, estableciendo una relación de unidad con él, me ha cambiado mi vida. Susi Lillo.
It was lower back pain which first led me to explore Antigymnastiqe. I had tried massage, yoga and osteopathy but the pain kept recurring. During my first session with Andrzej, I realised that this was not like anything I had experienced before. It was like calmly being led on a journey of rediscovery. I became aware of muscles in my body which I have previously been completely unaware of. The subtlety of the movements can disguise the profound shift which they facilitate. Andrzej teaches us to really listen to the body and work with it, rather than against it. The other fascinating aspect of the work is how interconnected the body is and how working on one specific part, can realign the and have an impact on the whole body, bringing about physical and mental balance. Andrzej is a highly intuitive teacher. With great patience he guides us through movements, when needed, tailoring them to our individual needs and continually checking in to see where each of us is. He holds the group well and creates a safe and caring environment within which one can feel held in the group, yet be able to fully focus inwardly. I thoroughly recommend Andrzej as a teacher and Antigymnastique as an approach well worth trying. Natasha Redina.
I suffer from fairly severe lumbar stenosis caused by prolonged wear and tear. I started seeing Andrzej on-line at the beginning of March 2020. His remarkable subtle exercises, explained with great patience and care have helped enormously with the relief of the pain and discomfort. Most importantly his teaching has brought a more thorough knowledge of my whole body and how best to manage it. Each session brings new insights into how each part of the body interacts with another and how with this knowledge one can learn to harmonise the physical whole. Michael Cooper.
I am halfway through the first course of Antigymnastics with Andrzej and already I can see and feel such a difference. It is such an extraordinary process especially for myself as I tend to overthink things and certainly suffer with stress. Already with Andrze's careful and sensitive guidance, I am allowing myself to feel deeply and address and release chronic areas of tension that I have been carrying around for years. Truly it has been a revelation and I have tried many different therapies before but none have been as effective as this… Thank you Andrzej. Frances MacGarry.
I have been practicing Antigymnastique with Andrzej for two years and I found his sessions always very interesting and stimulating. He is able to draw from his multiple experiences and his deep knowledge of the human body to deliver exactly what your muscles need to relax en reinvigorate. He always listens to everyone's needs and is able to combine the many techniques of Antigymnastique to create a unique and powerful experience, which is extremely effective in resolving most muscle aches and pains. No standard physiotherapy is able to achieve what Antigymnastique is able to achieve under the guidance of an expert practitioner as Andrzej. Those are results that last and improve your body constantly; they also lead to a deeper understanding of your body and what habits or behaviors benefit or damage it, and are based on serious science. I have been particularly enjoying the online sessions as they allowed me to keep practicing Antigymnastique with Andrzej in this difficult times having the same benefits of the face-to-face sessions; I look forward to keep joining them. Gaetano Dato.
I really need to practice AG, especially because I was pregnant so doing movements made me felt better. Andrzej has always tailored the lesson on my meeds and online course has been a blessing. Professionalism came through the screen easily thanks to his creativity, knowledge and empathy. It seemed to be in the same room with Andrzej and other people thanks to interactivity mediated by him during the lesson. Furthermore not having to commute during that delicate period was more than appreciated. Gloria Bisio.
Sometimes it is necessary to check with our body to see if the old pain still remains. Only by visiting various parts of our body are we able to change things before they reoccur in our consciousness. I particularly enjoy the consistent nature of our Zoom group which Andrzej has been careful to maintain. An occasional new member or visitor are always welcome. Andrzej takes the time to connect with all attendees. Antigymnastique is more than just physical work. The fact that the work has an emotional element is emphasized and our attention is drawn to that in case we hadn't appreciated it. The work is inner work on ourselves but done in a group session. We are able to reflect upon our colleagues experiences as we may have not realized that those comments are relevant to ourselves. Garry Hughes.
Mes coordonnees
Av. Encamp 17, Ap. Zaida 32
España
Finca Rincón de Tablas
Sierra Cabrera,
Sierra Cabrera Turre
04639 Turre
España
Golborne Place
70 Golborne Road - Notting Hill
W10 5PS Greater London
United Kingdom
6A Linden Gardens
W24ES Greater London
United Kingdom