Andrzej Szkandera
Praticien(ne) certifié(e)
Date de certification du praticien:
Date des formations continues suivies par le praticien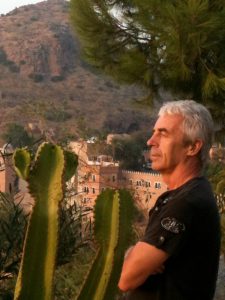 A man had two large pots, each hung on an end of a pole which he carried across his neck. One of the pots had a crack in it, and while the other pot was perfect and always delivered a full portion of water at the end of the long walk from the stream to his house, the cracked pot arrived only half full.
For a full two years this went on daily, with the man delivering only one and a half pots full of water to his house. Of course, the perfect pot was proud of its accomplishments, feeling accepted and appreciated. But the poor cracked pot was ashamed of its own imperfection, and miserable that it was able to accomplish only half of what it had been made to do. After two years of what it perceived to be a bitter failure, it spoke to the man one day by the stream.
"I am ashamed of myself, and I want to apologize to you." "Why?" asked the man. "What are you ashamed of?" "I have been able, for these past two years, to deliver only half my load because this crack in my side causes water to leak out all the way back to your house. Because of my flaws, you have to do all of this work, and you don't get full value from your efforts." the pot said.
The man felt sorry for the old cracked pot, and in his compassion, he said, "As we return to my house, I want you to look at the beautiful flowers along the path. It will make you feel better."
Indeed, as they went up the hill, the old cracked pot took notice of the sun warming the beautiful wild flowers on the side of the path, and this made it feel a little happier. But at the end of the path, it still felt bad because it had leaked out half its load, and so again the Pot apologized to the man for its failure.
The man said to the pot, "Did you notice that there were flowers only on your side of your path, but not on the other pot's side? That's because I have always known about your flaw, and I took advantage of it. I planted flower seeds on your side of the path, and every day while we walk back from the stream, you've been watering them. For two years I have been able to pick these beautiful flowers to take home to my wife. With you being just the way you are, you have given beauty and meaning to me every day."
TRAVEL THROUGH YOUR BODY
Practising Antigym® is like embarking on a voyage through your body and its history. You discover how throughout your life your body quietly reorganized, adapted and protected itself. You learn to perceive and understand your body in a deeper, more accurate and autonomous way.
New cycles start on October 1:
A.Golborne Place / 70 Golborne Road / London W105PS
B.6A Linden Gardens / London W24ES
Monthly Sessions 2019:
Saturdays from 10 am to 1 pm:
January – 19
February -9
March – 9
April – 13
May – 11
June – 8
July – 13
Workshops:
London, England
Sierra Cabrera, Almería, Spain
Glasgow, Scotland
Mes coordonnees
The Wise Group Building
58 Charlotte Street
United Kingdom
Finca Rincón de Tablas
Sierra Cabrera,
Sierra Cabrera Turre
04639 Turre
España
Golborne Place
70 Golborne Road - Notting Hill
W10 5PS London
United Kingdom
6A Linden Gardens
W24ES London
United Kingdom
Mes stages
Ce stage vous est proposé par Andrzej SZKANDERA
Date début du stage: samedi 19 janvier 2019
Date fin du stage: samedi 19 janvier 2019
Nombre de jours: 1
Adresse du stage:
6A Linden Gardens
W2 4ES London
United Kingdom
Descriptif du stage:
GOOD STEPS TO A NEW YEAR.
A multiple-arch system, much like the multiple vaults of the medieval vault ceiling, enables the foot to support the considerable weight of the body.
"Sometimes we acknowledge that a part of our body is ugly, but we don't take it seriously if we can hide it and if it isn't a source of persistent pain. The foot is an excellent example. Françoise Mézières talks about "those hideous pestles that Occidentals call feet." She adds: "You can not preserve the foot's perfect morphology when you wear shoes that constrain it instead of protecting it. Shoes should respect the contour of the foot and let the toes have the freedom of all their movements (modern aesthetics doesn't accept this, but can you imagine a Greek statue with pointed feet!). Since the arches act as springs, the inside of the sole of the shoe should be perfectly flat because the foot adapts itself to the ground and not the ground to the foot; the shoe conforms to the impression of the foot. Since the normal walk requires that the posterior-inferior edge of the heel hit the ground when the leg is in complete extension, there should never be a heel, no matter how small. However, no existing shoe style corresponds to these requirements." (T.B.- The Body Has Its Reasons)
Ce stage vous est proposé par Andrzej SZKANDERA
Date début du stage: vendredi 15 février 2019
Date fin du stage: dimanche 17 février 2019
Nombre de jours: 3
Adresse du stage:
EL NACIMIENTO
FINCA RINCON DE LAS TABLES /SIERRA CABRERA / Almería
www.elnacimientodelrincon.es
04639 Turre
España
Descriptif du stage:
EL ARTE DE LA RESPIRACIÓN.
Nuestro cuerpo no necesita que se le enseñe a parar, a mover o a respirar. Simplemente necesitamos dejar de interferir en nuestras capacidades naturales. Por lo tanto, la conciencia es clave. Es necesario que cambiemos no solo nuestra forma de pensar acerca de nuestro cuerpo, sino que también seamos nuestro cuerpo.
Controlar la respiración es una forma de anclaje que a menudo surge de la creencia de que uno debe hacer en lugar de ser. Somos un sistema vivo, no respiramos mecánicamente; más bien somos respirados. Como un vacío que, cuando no está ocupado, se llena de aire, no necesitamos inhalar-nos porque como organismo vivo somos respirados.
Controlar mentalmente la respiración también hace que los nuevos patrones se colocan sobre los ya existentes. El control de la respiración impone un ideal en lugar de confiar en que, al dejar de lado los patrones de respiración no naturales, nos convertiremos en un cuerpo de respiración.
Un centro tenso y contraído restringe la expresión diafragmática, limita la función completa de los pulmones e interrumpe la coherencia. Con cada paso o movimiento que damos, el diafragma y el psoas masajean los órganos internos y las vísceras. Pero si la respiración se para o restringe, dejan de hacerlo.
Caminar, cuando se inicia desde un centro flexible, es un poderoso ejercicio aeróbico que activa y tonifica la respiración diafragmática.
Ce stage vous est proposé par Andrzej SZKANDERA
Date début du stage: vendredi 3 mai 2019
Date fin du stage: dimanche 5 mai 2019
Nombre de jours: 3
Adresse du stage:
EL NACIMIENTO
FINCA RINCON DE LAS TABLAS / SIERRA CABRERA / Almería
www.elnacimientodelrincon.es
04639 Turre
España