Andrzej Szkandera
Praticien(ne) certifié(e)
Date de certification du praticien:
Date des formations continues suivies par le praticien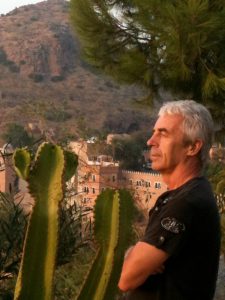 A man had two large pots, each hung on an end of a pole which he carried across his neck. One of the pots had a crack in it, and while the other pot was perfect and always delivered a full portion of water at the end of the long walk from the stream to his house, the cracked pot arrived only half full.
For a full two years this went on daily, with the man delivering only one and a half pots full of water to his house. Of course, the perfect pot was proud of its accomplishments, feeling accepted and appreciated. But the poor cracked pot was ashamed of its own imperfection, and miserable that it was able to accomplish only half of what it had been made to do. After two years of what it perceived to be a bitter failure, it spoke to the man one day by the stream.
"I am ashamed of myself, and I want to apologize to you."
"Why?" asked the man. "What are you ashamed of?"
"I have been able, for these past two years, to deliver only half my load because this crack in my side causes water to leak out all the way back to your house. Because of my flaws, you have to do all of this work, and you don't get full value from your efforts." the pot said.
The man felt sorry for the old cracked pot, and in his compassion, he said, "As we return to my house, I want you to look at the beautiful flowers along the path. It will make you feel better."
Indeed, as they went up the hill, the old cracked pot took notice of the sun warming the beautiful wild flowers on the side of the path, and this made it feel a little happier. But at the end of the path, it still felt bad because it had leaked out half its load, and so again the Pot apologized to the man for its failure.
The man said to the pot, "Did you notice that there were flowers only on your side of your path, but not on the other pot's side? That's because I have always known about your flaw, and I took advantage of it. I planted flower seeds on your side of the path, and every day while we walk back from the stream, you've been watering them. For two years I have been able to pick these beautiful flowers to take home to my wife. With you being just the way you are, you have given beauty and meaning to me every day."
TRAVEL THROUGH YOUR BODY
Practising Antigym® is like embarking on a voyage through your body and its history. You discover how throughout your life your body quietly reorganized, adapted and protected itself. You learn to perceive and understand your body in a deeper, more accurate and autonomous way.
New cycles start on October 1:
A. Golborne Place / 70 Golborne Road / London W105PS
B. 6A Linden Gardens / London W24ES
Monthly Sessions:
Saturdays from 10 am to 1 pm
September – 22
October – 20
November – 17
Workshops:
London, England
Sierra Cabrera, Almería, Spain
Glasgow, Scotland
Mes coordonnees
The Wise Group Building
58 Charlotte Street
United Kingdom
Finca Rincón de Tablas
Sierra Cabrera,
Sierra Cabrera Turre
04639 Turre
España
Golborne Place
70 Golborne Road - Notting Hill
W10 5PS London
United Kingdom
6A Linden Gardens
W24ES London
United Kingdom
Mes stages
Ce stage vous est proposé par Andrzej SZKANDERA
Date début du stage: samedi 22 septembre 2018
Date fin du stage: samedi 22 septembre 2018
Nombre de jours: 1
Adresse du stage:
Linden Gardens
W2 4ES London
United Kingdom
Descriptif du stage:
Breathing is intimately connected to the way in which we inhabit our bodies. It affects every aspect of our body and vocal language and influences both the way we feel and the way in which others view and reacts to us. It also determines how well we handle pressure and how easily we bounce back from all the life throws our way.
A centred breath will give rise to a supported, resonant, confident sounding voice, making us more confident as well.
Centring the breath give us the opportunity to function more effectively in spite of our feelings – to control nerves, anxiety,
and self-doubt and to replace them with a more positive frame of mind which enables us to function from the most capable side of ourselves.
Breath is not just the life force, it is also quintessential in shaping the very way we live our lives.
Ce stage vous est proposé par Andrzej SZKANDERA
Date début du stage: vendredi 9 novembre 2018
Date fin du stage: dimanche 11 novembre 2018
Nombre de jours: 3
Adresse du stage:
EL NACIMIENTO
FINCA RINCON DE LAS TABLAS
SIERRA CABRERRA / Almería
04639 Turre
España